This post was originally written in 2017, then updated in 2019, and now is updated again to reflect the changes in both Zoom and WebinarJam.
"Which is the best webinar tool?"
I get asked this question a lot. If you have ever felt overwhelmed by choice, I think this post is going to help you because I'm going to break down the pros and cons to help you figure out which is the best webinar tool and then also declare MY personal winner.
Why is it so hard to choose a webinar tool?
I think it's because – let's face it – most webinar tools are kinda spendy. They aren't free and, if they ARE free, they just don't seem to cut the mustard in one way or another. Add on top of that the wide variety of features (this one has A but not B, this one has A and B but doesn't have C) and the whole webinar tool shopping process can make your head spin.
First Off: How Do I Compare Webinar Tools?
With all online techie tools, I am looking for 5 things:
Relative ease-of-use
Ability to do what you need it to do, without a bunch of confusing excess
Reasonable cost for someone who is just getting started as an online entrepreneur
Good customer support (I like companies that stand behind their products and are kind & inclusive to all)
Plays well with others (i.e. easy enough to integrate your tool with other tools in your online biz)
Today I'm talking about Zoom vs. WebinarJam. Both of these tools meets all 5 of these criteria to some extent or they wouldn't be on the list today at all.
Neither of them totally knock it out of the park on all 5 fronts, though I do have a favorite and I'll talk about that in a sec.
(Full disclosure: I'm also an affiliate for both tools, which means if you end up checking either one out and subsequently becoming a customer, I may earn a commission and you of course don't pay anything extra. As you know I only ever recommend tools I use personally and love.)
Our First Contender: Zoom
Man, I love Zoom. When I launched my business, I ran a telesummit with 20 speakers and I did almost every single one on Zoom. Very easy to use and – wait for it – free! Can't beat that.
At the free level, not surprisingly, Zoom does have limitations:
No integration with other tools
Limited to 40 minutes when you have more than 2 people on the line (not ideal for webinars)
If you bump up to the $15 USD/month plan (the most affordable paid tool on the docket today), one big issue is taken care of: You can have up to 100 people on the webinar for as long as you want. For a lot of us, 100 live seats is more than enough, especially when you're just getting started.
Unfortunately, this is also where in the Zoom vs. WebinarJam debate, Zoom starts to fall a bit flat…
It's still very easy to use but if you want to be able to really run more full-featured webinars (e.g. you actually want people to have to sign up so you can capture their email addresses and you want to send them reminder emails and sales emails afterwards), you're going to have to bump up and grab the Zoom Webinar package, which is $40/month $79/month (new pricing) on top of the $15 basic plan. So now we're at $55/month $94/month (new pricing).
Yeah, there's a price increase there as of summer of 2021. My guess is Zoom's crazy-explosive popularity during COVID inspired the spike… sigh. Double sigh since their webinar are "meh" at best.
Anyway, at the $94/month level you also have more control over your users, such as not having their little video thumbnails showing in the webinar room.
Going back to talking about the reasonably priced Zoom Pro you also have access to TWO super badass features:
(1) The ability to stream to Facebook Live & YouTube Live. For me this is a biggie: You can stream both into Facebook Groups AND onto Facebook Pages. I love that, especially given the Facebook updates in 2018 that made it difficult if not impossible for some webinar providers (including WebinarJam) to stream onto Facebook. Thanks, Zoom!
(2) Coming in late 2021 – Zoom Pro users will have a live transcription feature so people can read as well as watch. Amazing and SO EXCITING. I deeply appreciate Zoom's efforts to make their plaform more accessible. Amazing.
Two things about Zoom that get my goat a little:
#1 – Their "integrations" kind of suck. In order to even use integrations (like, say, you want Zoom to shoot registrants over to your email marketing tool), you have to pay for Zoom Webinar, but even then the integrations are very limited for online entrepreneurs, unless you are willing to use Zapier. (If you have to use Zapier and you don't know what that is, definitely read on about WebinarJam because it's cheaper and less of a headache in this department.)
In other words, if you're an online entrepreneur and you're wondering, "Does Zoom integrate with X?" the answer is almost definitely no, not unless you're willing to use Zapier too.
#2 – Participants have to download Zoom's software to be able to watch webinars. It's a minor barrier, especially given that lots and lots and lots of people know, love, and use Zoom, especially now (so they probably already have the software on their computer)… but it's worth noting because it can harm your webinar show-up rates when they get that potentially alarming little pop-up that's like "you have to download this before you can watch the webinar."
(Technically they can jump in without downloading but their participation features are limited that way.)
To Recap: For $15/month you get 100 people and unlimited meeting time but not much else.
For an additional $79, you get a more full-featured webinar platform that includes Facebook & Youtube livestreaming, the ability to hide attendees from public view (this is helpful if you are running small webinars and you don't want the other attendees to see that you only have a handful of people on the line), plus other elements you'd expect from a webinar platform, like the ability to register and special Q&A sections.
Here's where you start your free Zoom account. (Check it out and then you can always upgrade to the $15 or $94 version if you're feeling spendy.)
Up Next: WebinarJam
I've used WebinarJam a lot. It was my go-to webinar tool for live webinars for ages until I switched to EasyWebinar (review coming soon) because it does both live and evergreen (and is also more expensive).
WebinarJam overhauled their infrastructure and made some big changes a little while ago to improve performance, so that's good., some of which I'm excited about and some… not so much.
If you want to check out a 14-day WebinarJam trial for $1, click here to do that.
If you don't see the trial, click on "Plans & Pricing" and then move to exit the page and you may trigger the $1 special deal.
So as far as my 5 criteria above:
Easy to use? Check.
Does what it needs to without overcomplicating things or making you pay for bells and whistles you don't need? Check.
Reasonable cost? Yes – I think so. More on that in a sec.
Good customer support? Perhaps not quite as good as Zoom, but still good.
Integrates easily with other tools? Totally. (It does this right out of the box, no need to upgrade or use Zapier or anything.)
WebinarJam's interface is really intuitive. You go through a step-by-step process to set things up, easy-peasy, and they even have a quicker way where you can set up a basic webinar in just a minute or two.
The current price for WebinarJam starts at $499/year. Yikes, right?
I know that sounds like a hefty price tag. Buuuuut if you do the math, $499 divided by 12 equals about $40 per month, which actually makes it SIGNIFICANTLY cheaper than the outragously-priced Zoom Webinar.
$499 gets you 500 attendees. The next price jump is $699 and that gets you 2,000 attendees, which is steeper but if you're getting 2,000 attendees on your webinars you're probably not too concerned about $699/year. 🙂
What about the $15/month Zoom? This is a good question – obviously if you just buy the $15/month Zoom (Zoom Pro), then you're spending way less than you are on WebinarJam. However, at that point you're really not even comparing apples and oranges, it's more like apples and… firetrucks? Apples and Screwdrivers? Something like that. 🙂
Where WebinarJam really shines is in the fact that it was designed for marketing and selling on the Internet.
They have gorgeous opt-in templates you can customize easily. They have this amazing little pop-up sales box that you can have appear just at the moment you want it to so people have a buy button to click on. They even have built-in urgency and scarcity tools, as well as real-time sales tracking (so you can show X units sold, right there on your webinar). Here's what it looks like: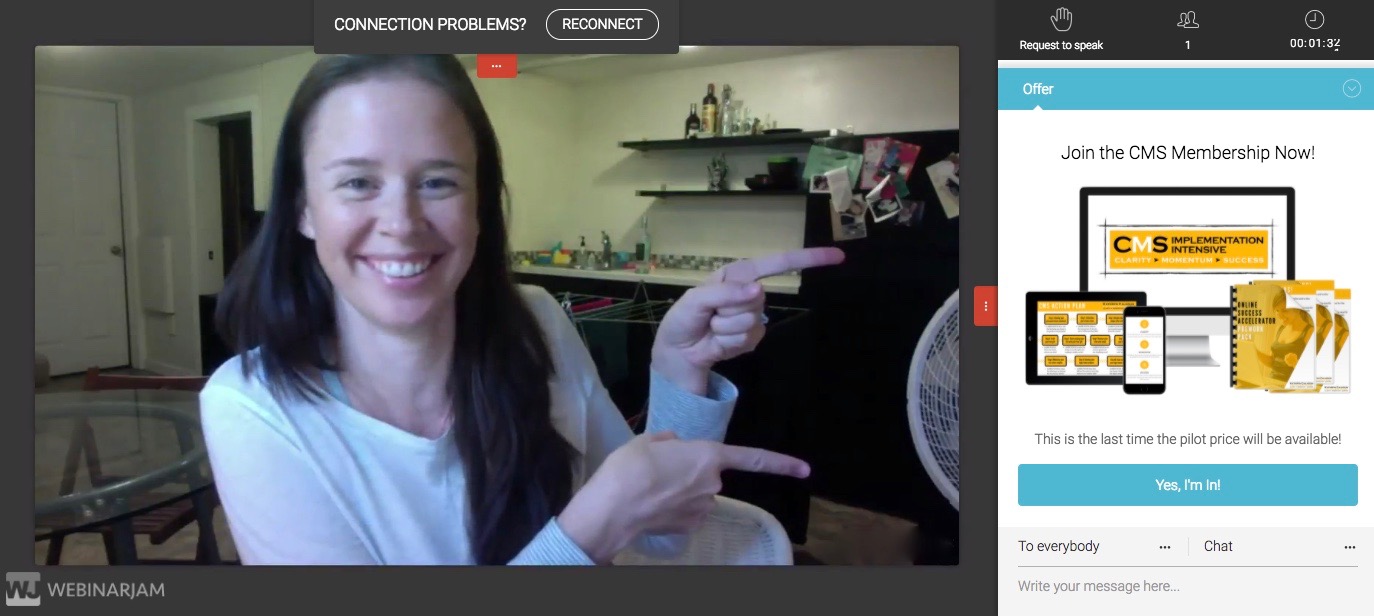 It's really cool. These features are THE reason I became a WebinarJam customer.
There's also nothing for your webinar attendees to download and install, which I like a lot.
Aaaand another one of my favorite features is how WebinarJam lets you do "video injections" – so if you do have something prerecorded, such as a testimonials reel you want to put in at the end, or if you want to tweak your webinar offer and not do that part live, you totally can.
And then of course there's the very simple (but must-have for newbies IMHO) feature of NOT having to broadcast to the world – or to your 2 webinar attendees – just how few people are there, which is something you can't avoid with Zoom Pro.
And listen, there's nothing at all wrong with small webinars. We all start there. But it can dampen the social proof if everyone knows that basically nobody's there.
Where WebinarJam falls down is with Facebook Livestreaming.
For awhile, I was so happy. WebinarJam could stream to Facebook Pages AND Facebook Groups.
Then Facebook changes took that away. Waaaah! I have been waiting for over two years for WebinarJam to bring that back, but nope. Sigh. I've lost hope. If it ever comes back, I'll let you know.
WebinarJam DOES stream to YouTube, so that's good. But Facebook… <sob>
The workaround I use is simply to use Facebook's free native tool. It's not as full-featured as WebinarJam of course but it obviously works just fine!
Here's my link to get a 14-day trial of WebinarJam for $1 (no need to drop $499 till you're sure you like it).
Note: I've gotten lots of reports in the comments that the $1 trial has disappeared. Sometimes it does. But if you go to the pricing page and then move to exit, you might get the $1 trial offer in a pop-up. (It used to be 60 days, it's just 14 now.)
Zoom vs. WebinarJam: Which is the Best Webinar Tool for You?
The answer to this question might feel like a bit of a cop-out: it really does depend on your needs and priorities.
I use the free version of Zoom for my one-on-one coaching and when I'm conducting interviews. It is awesome for that.
I use the $15 version of Zoom for some of my group coaching stuff because it's easy for attendees to unmute themselves and talk (they can do it on WebinarJam too but there are a few more steps for attendees).
I use WebinarJam for pretty much everything else. It has cool sales and marketing doo-dads built right into the platform and no one has to download anything to attend your webinars. WebinarJam really, really excels at helping you actually SELL stuff via your webinars, whereas Zoom has more of a generic conference-room kinda vibe. With WebinarJam you can:
Run webinars to sell stuff
Rub webinars to teach stuff
Up to 500 attendees at the base level (to get 500 attendees with Zoom you're looking at more than double the price)
Customize ready-to-go templates for sign-up pages, thank-you pages, and even waiting room pages
Inject pre-recorded video for perfect presentations
Automatically record every webinar
Communicate pre and post webinar with built-in emails to remind people to show, watch the replay, and buy
Track your sign-ups, show-ups and even sales and engagement during your webinar
Replays can be automatically created and sent out so you don't have to do anything
Charge for your webinars if you wish
Add countdown timers to your webinars to encourage people to act quickly
Add "buy now" buttons and product images (my favorite)
Allow people to download a handout
Upload your slides so it's easy to run your presentation
Integrate with the most popular tools for online entrepreneurs, so WebinarJam "talks" to everything else easily
Complete features here.
So if you're thinking Zoom Webinar ($94/month) vs. WebinarJam ($40-ish/month), I can't think of one reason you'd choose Zoom Webinar – unless you don't want to do Facebook Lives right on Facebook but would prefer to stream them in.

The only reason I can think of why you'd choose Zoom vs. WebinarJam would be if you wanted to run webinars and were on a crazy-tight budget. In that case, you'd pick the $15/month Zoom option (called "Zoom Pro"). You'd get 100 attendees and unlimited webinar time, which is what you need. Everyone's thumbnails would be there but at least you'd get to do your webinars super-cheaply!
You wouldn't get other webinar stuff, like registration pages, marketing tools (I just love WebinarJam's "buy now" button that pops up at a time of your choosing), the ability to not see everyone's faces on your webinar, etc.
However, if you just want to run basic webinars, Zoom's $15/month option should do you just fine until you're ready to uplevel. It saves you money, which isn't a bad thing. But I would definitely take a look at the price point of what you're selling and WebinarJam's ability to help you sell that thing vs. Zoom. If WebinarJam can help you sell even ONE extra thing, it's probably a no-brainer for you to go with WebinarJam.
Check out Zoom's packages here.
Check out WebinarJam here and get a $1 trial for 14 days.
I really hope you've found this post helpful. If you have, please do 2 things for me: (1) leave a comment below and (2) share this post with 1 or 2 people you think would really benefit.
I appreciate you,
Kathryn