I'm always interested in learning more about myself. What about you?
I seriously don't know what it is, but there is something about quizzes that I find super-appealing. Quizzes to discover my body type, my love language, my perfect vacation…
And when it comes to your business, you can actually leverage other people's desire to learn about themselves by offering them a quiz that helps you grow your list.
I'm willing to bet you've come across these types of quizzes before, where:
You get to the quiz
You do the quiz and are intrigued what your result will be
You submit your email address to unlock the results
Can a list-building quiz actually help my business or is it a waste of time for both me AND my prospects?
So.
I am super-serious about list-building. When you have an email list, you have people to make offers to.
…and not just ANY people. We're talking people who have raised their hand and said, "Hey! Yes! I need help in your area of expertise and I want to learn more from you!"
Read More: My 5 Best Tips to Grow an Email List From Scratch
So you're not just shouting at the masses. You're making strategic and targeted offers to real human people who are perfectly positioned to want and need what it is that you're selling. Doesn't that sound better? And easier? And more fun.
(Spoiler alert: It IS better and easier and more fun.)
Having a list-building quiz can be a truly badass way to grow your list. Like I said, people love to learn about themselves. So that's value for them right there. And, of course, it's valuable for you, too, because you'll have a way to continue the conversation with that person after they've taken your quiz, because you'll have gotten their email address in the process.
Some examples of list-building quiz ideas for different industries:
Health & Wellness: What type of exerciser are you?
Marketing & Sales: What's your strategy session IQ?
Personal Development: What does your inner child need most?
Corporate & Nonprofit: What type of leadership does your team need?
Retail & Physical Products: What's your jewelry personality?
The idea here is a quiz with a compelling promise. We want your peeps to be so curious about the title and where they may fall on the scale that they take the quiz and give you their email address to get results.
So how do we actually create a list-building quiz?
The first thing you need is quiz software. I've been playing around with a platform called Interact and I have to say, I really really like it. (Full disclosure: Interact did ask me to review their product and be an affiliate, which means if you ever buy anything from Interact via one of my links, I may get a small commission. As you know, I only ever recommend stuff that I use myself and love to pieces.)
If you've been around my community for any length of time, you know that I am super-selective about the tools I use and the tools I recommend. They always have to meet these 5 criteria:
Easy to use
Cost-effective
Does what you need it to do, but without so many bells and whistles that it's (a) expensive and (b) too confusing to learn
Good customer support
Plays nicely with other tools (in other words, will it easily integrate with the other stuff you already use in your biz, such as email marketing software)
I was actually really blown away by how easy it was to use Interact to build a quiz. They have about a gajillion quiz templates, even pre-populated with questions, to get you started off. Here are what a few of them look like: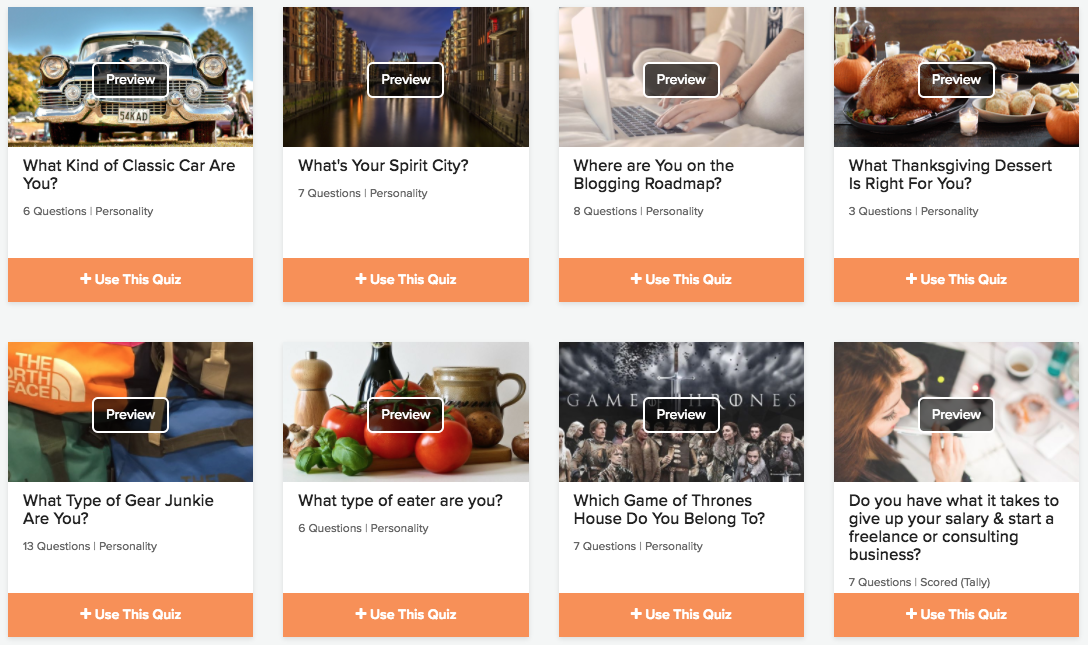 quiz templates in Interact
Once you click on one of the "use this quiz" buttons, you're off to the races. Basically you just plug in your own stuff to the template. Like I said, I was actually shocked how easy this was, and not from a techie nerd's perspective (aka me), either. As you know, I work with people who want to get clients online but struggle with the techie stuff. So it's important to me that it's not like "millenial easy" but more like "everybody easy."
It's hard to give you a sense of how straightforward Interact is in a blog post (I have a video coming soon to show the process). But I did include a screenshot below so you can get a feel for their quiz-building interface: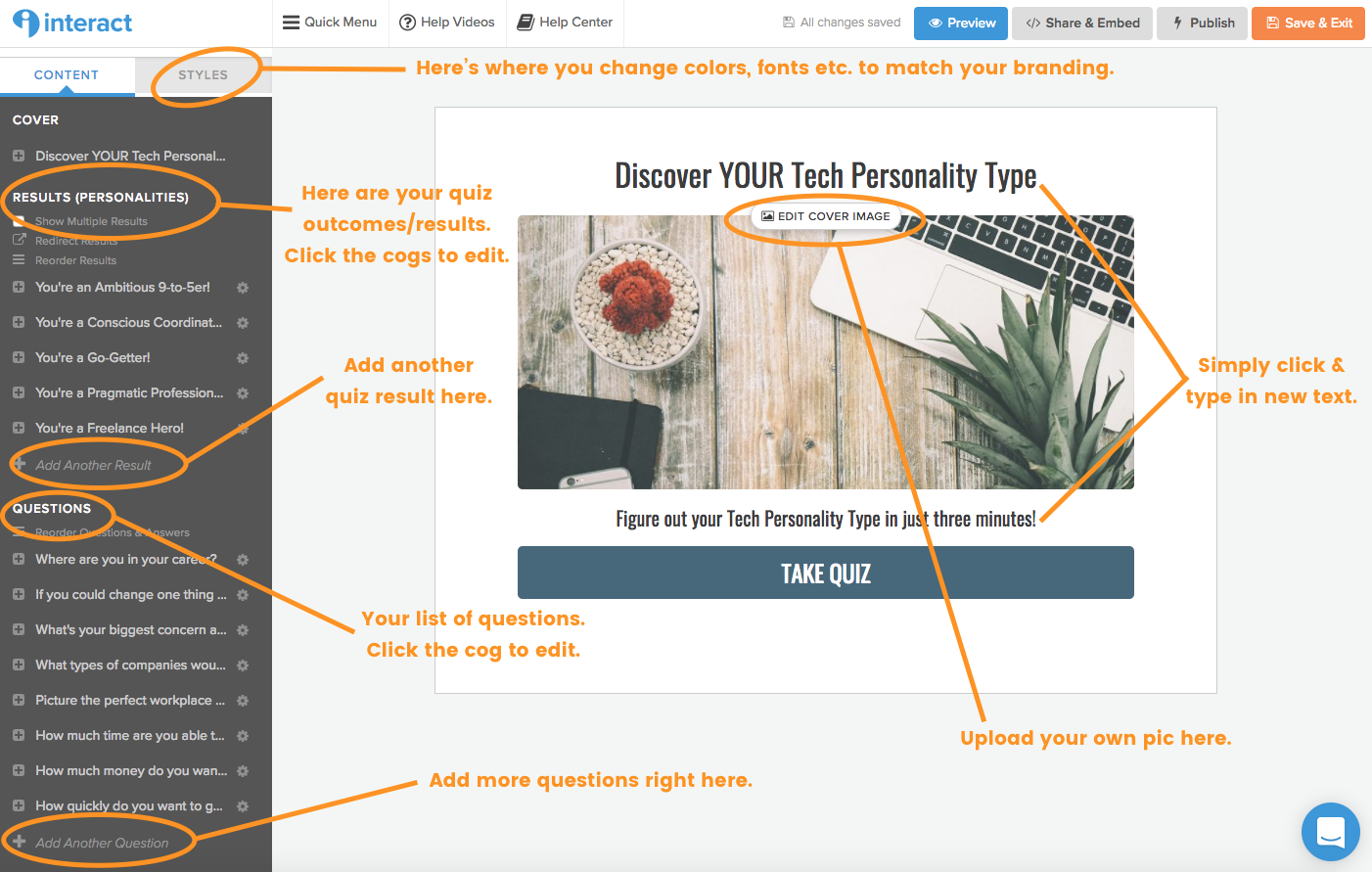 Interact's quiz builder interface
Once you're done customizing the quiz to your liking, you're ready to share it with the world. Your peeps click on the "Take Quiz" button and then start answering questions. Before they get their result, they just need to supply their email address. That's the list-building part for you.
And you can even get a little advanced here and send people customized emails based on the result that they get on your quiz. Cool, right?
Is Interact expensive?
Interact actually has a 100% free version, which is awesome, and if you pay you can get started for as little as $17/month right now.
If you're not sure the $17/month is worth it, you should ask yourself two important questions to see gauge if the investment is right for you:
Could a quiz help me get more leads? (Hint: It certainly could. 🙂 )
Would I be able to monetize those extra leads? (Even if you only get one new client out of it, chances are Interact would more than pay for itself… unless your products cost less than $17, in which case, you and I need to have a serious talk.)
What's the difference between the free and paid versions?
Interact's Free Version does not let you collect email addresses, which is kind of a bummer. What it DOES do is allow you to create as many quizzes as you want, which I like because you can get a feel for the platform and see if it might work for you. You could always offer your quizzes without requiring an email address, just in the beginning, just to get a sense for how much people like them.
Interact's Paid Version integrates with virtually every email provider under the sun, which is really where the power of this is. Also super cool is that Interact's paid version lets you host giveaways.
!!!!!
I'm really excited about that! So you can have a giveaway where people give you their email address and are entered to win a prize from you, plus they can earn bonus entries for sharing on social media, which is another way to grow your email list as well as your social reach. Oooooh, that gets me excited. 🙂
If you want to check Interact out, you can do that right here: https://kathryncalhouncoaching.com/interact